Our mobile app updates confirm that at visuEats, we are consistently making upgrades our diners and restaurateurs can equally enjoy. As we build out new features for our diners to enjoy, we also ensure our restaurateurs can easily manage them using the handy admin panel. Additionally, visuEats restaurateurs directly benefit from our platform through added promotion, marketing, and upsell opportunities. The latest available visuEats updates bring even more features (for diners) and benefits (for restaurateurs) to the fore. We explore them in greater detail below.
Dining with visuEats Just Got Better with These Mobile App Updates
01. Reservation Updates
As you would have learned from the Jamaican leg of our official launch in March, reservations was the first feature rollout to hit the market. We even created a quick tutorial on how to use the reservations feature. Since the rollout of the first iteration of reservations, we have made even more changes. The reservations features is now less clunky for diners wanting to reserve a table, as well as for restaurants managing the reservations made on the backend.
For starters, restaurateurs can make the reservations option unavailable during those times when they are fully booked. Consequently, reservations are only available to diners conditionally. This allow restaurants to prevent overbooking while helping to manage diner expectations regarding what it available..
02. Single Sign-On
Single sign-on (SSO) allows users of various applications to use one login criteria to access them all. The most common example would be applications and platforms that support Social SSO feature. Social SSO allows users to sign in using Google, Apple, Facebook and other existing social media accounts. For visuEats our SSO feature allows diners to sign-on using their existing Google and Apple ID accounts.
Of course, one can access the visuEats platform by continuing as a guest. However, creating a user profile is by far the better option for this feature-rich platform.
03. Seach via Menu Items
A robust search feature on any platform is a good thing for all its users. The same is true for visuEats and all its stakeholders including resraurateurs, diners, sponsors, advertisers, and other strategic partners. Thanks to the latest iteration of our in-app search feature, diners can now find their favourite foods dished up across visuEats restaurants.
This final upgrade of these three latest mobile app updates achieves two things. Firstly, it allows diners a further-improved dining experience as they can search for their favourite meals and have them matched with restaurants offering them. Secondly, restaurants proving to be a match for any user search, benefits from additional promotion and discovery oportunities as diners are discover their offerings for thefirst time.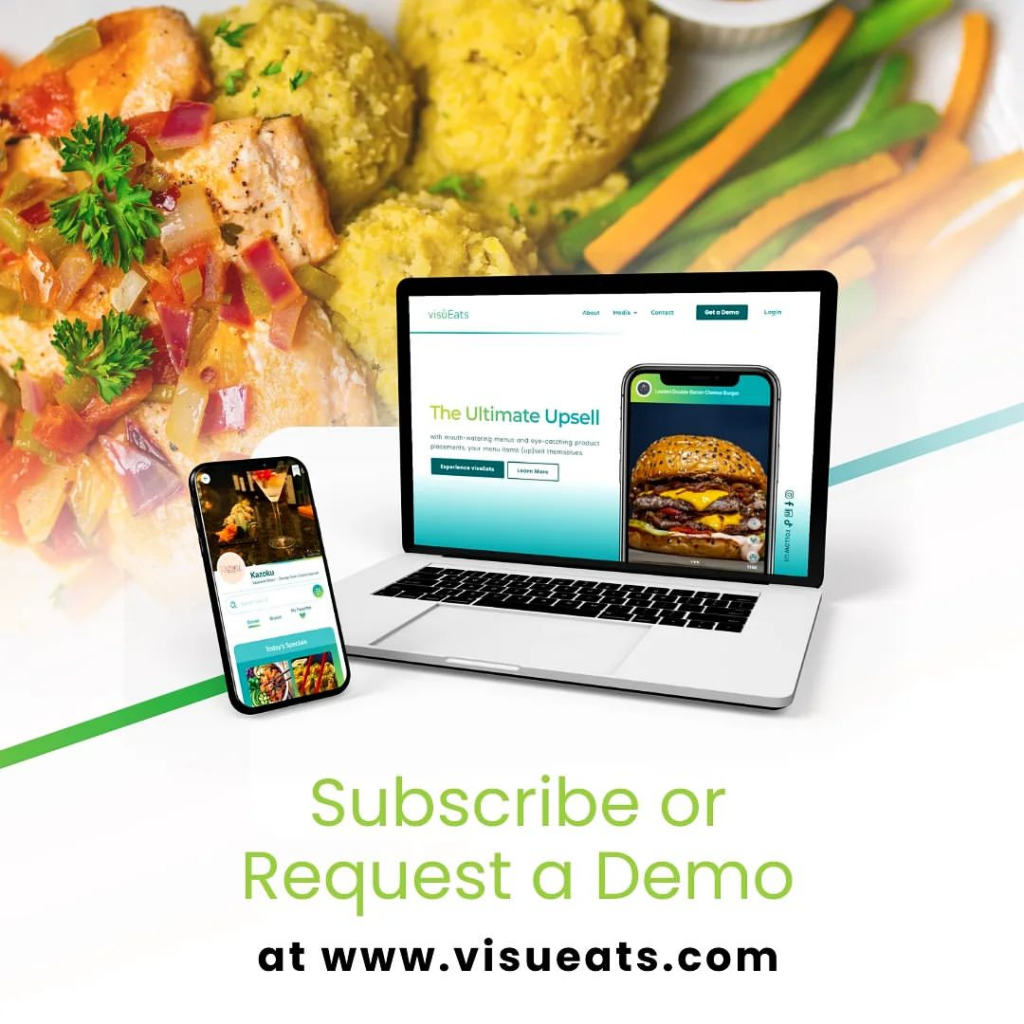 Do you know any restaurateurs who would be well-served by the visuEats platform? Let us know so we can reach out to them! Of course, you can also encourage them to start the conversation here on our official website using the Get a Demo option.
Diners: Download visuEats from the App Store or Google Play today!
Restaurateurs: Schedule a demo or go ahead and subscribe to get started today!